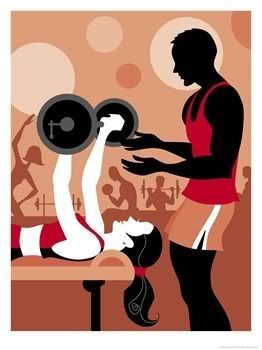 Hiring a fitness trainer can be a very difficult process. There are a lot of unqualified, average Joe's that will tell you that they can train you. They usually lack the background, experience, or qualification of fitness professional. Just because an individual worked out for ten years doesn't mean he or she is qualified to train you. He or she might be able to give you some advice that worked for him or her, but that's about it.
Here are the qualifications of a Fitness Trainer:
Certification - This is great but it isn't good enough. It's just the start.
AA or BS Degree in exercise science or kinesiology - This is also good to have but it isn't a stand alone. A degree in exercise science is great because it gives you the science background. There's a lot of science aspects connected to any type of workout because it involves the body. We all know how complicated the body can be.
Continuing Education - This is very important because it's an ongoing learning process. I try to attend 4 or 5 workshops or conferences a year.
Years Of Experience - Just because you have a certification or a degree in fitness, the journey has just begun. It takes a good year or two of full-time training to really get a grasp on training clients.
Ask For References - This is a great way to see what the trainer's clients think of him/her.
Why Hire A Personal Trainer
Hiring a personal trainer is an investment in yourself. It's a great way to adjust your workout routine. A personal training can provide versatility in your workouts and structure. It is always a good idea to have a support team. A personal trainer, in addition, to friends and family members can also be your support system. Having a personal trainer allows you to be accountable for your actions. Even if you can only workout with a personal trainer once a month, it can still be very beneficial. When it comes to working out, you want to make sure you are maximizing your time.
Where To Find A Personal Trainer
I personally feel that one of the best sources to find a personal trainer is on Idea Health and Fitness website. Idea Health and Fitness is the leading fitness organization. They have members worldwide. Idea Health and Fitness requires personal trainers to:
Hold a current recognized certification or degree in a related field
Have signed the IDEA Personal Trainer Professional Code of Ethics
Have liability insurance
Have current CPR certification
Source @ abc-of-fitness.com